Why Heart Attack Symptoms Are Sometimes Missed in Women
Jacqueline Howard
Feb 19, 2018

(CNN)Among adults 55 and younger, women may be more likely than men to experience lesser-known acute heart attack symptoms in addition to chest pain, a new study has found.
And more than half of the doctors seeing women who seek care for those symptoms, prior to being hospitalized, might not even realize that the symptoms are heart-related, the study suggests.
Misinterpreting such heart attack symptoms could put young women at a greater risk of death than similarly aged men. These differences between symptoms, and how they're interpreted in men and women, are spotlighted in the study, published in
the journal Circulation
on Monday.
It's a situation that 42-year-old Des Moines, Iowa, resident Melissa Murphy knows all too well.
About two years ago, Murphy awoke and sat up, clutching her chest.
It was about 2 a.m. on Ash Wednesday, and the pain in Murphy's chest was unnerving, but she figured that maybe her body was reacting to her giving up caffeine for Lent. Then, another thought crossed her mind.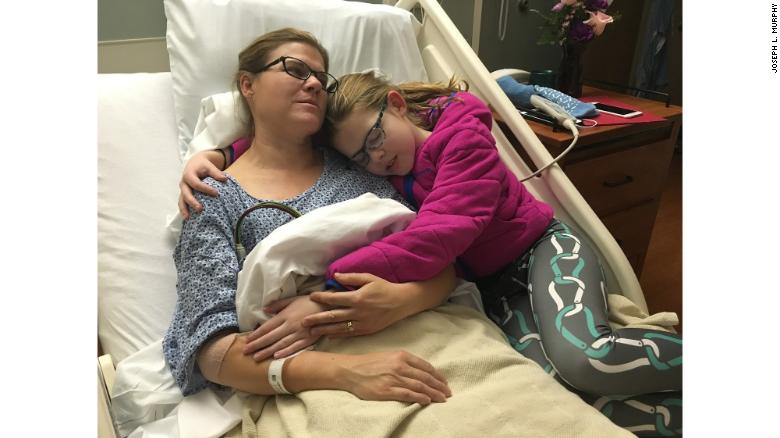 Melissa Murphy hugging daughter Brenna at Mercy Hospital in Des Moines, Iowa, after her heart attack in 2016.
The mother of two woke her husband, asked for his cell phone and began searching online for "women's heart attack symptoms."
Suddenly, "the pain started to get intense, and I started to have pain in the left side of my jaw," said Murphy, who was not involved in the new study.
"That's when my husband looked at me and said, 'I don't know CPR very well. I'm calling an ambulance,' and thank God he did, because I was having a right-sided heart attack," she said.
Murphy, who now conducts patient and reimbursement support for Otsuka Pharmaceuticals, used to work as a surgical nurse.
"I used to hold the human heart when we would do bypass grafts on patients who had heart attacks. So in my mind, I thought, 'if this ever happens to me or a family member, I'm going to know they're having a heart attack,' " Murphy said.
But "when you actually experience a heart attack, that's the last thing you think of."
"You think if you have a heart attack, it's going to be the Hollywood heart attack. You're going to fall over on the floor. You're going to grab your chest. Everybody around you is going to know you're having a heart attack. Well, with women, it doesn't happen like that."
'A young woman ... has a higher risk of mortality'
The new study highlights how most women and men both experience chest pain as the predominant symptom of a heart attack, but women tend to experience a greater number of additional non-chest pain symptoms.
Those additional symptoms in women can be dangerously misunderstood.
"The backdrop for all of this is the fact that a young woman who is hospitalized with a heart attack has a
higher risk of mortality
than a similarly aged man in this age group of 18 to 55," said Judith Lichtman, associate professor in the department of chronic disease epidemiology at Yale School of Public Health and lead author of the study.
Though the study does not dive into the scale of that increased risk, a previous report in the
Journal of the American College of Cardiology
shows that between 2001 and 2010, the rate of in-hospital heart attack deaths for women ranged from 3.3% to 2.3%, whereas the rate for men ranged from 2% to 1.8%.
Not getting care for
heart attack symptoms
could result in complications, such as an arrhythmia or abnormal heartbeat, heart failure, heart rupture or even death.
Cardiovascular diseases, such as coronary heart disease, are the leading cause of death globally, according to the
World Health Organization
.
'This represents a missed opportunity'
The new study included 2,009 women and 976 men, ages 18 to 55, who had been hospitalized in the US for having an acute heart attack between August 2008 and January 2012. One hundred and three hospitals across the country were included in the study.
Shortly after their heart attack, the patients were interviewed and asked whether they had seen their doctor in the week before going to the hospital. They also were asked whether their doctor told them that their symptoms might be related to a heart problem.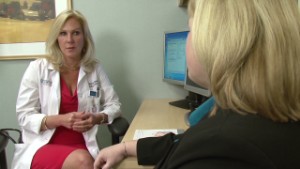 About 22.1% of men and 29.5% of women said they sought medical care for their symptoms before their hospitalization, but only 37% of those men -- compared with 53% of those women -- said that their doctors did not think their symptoms were heart-related.
"From my perspective, this represents a missed opportunity to identify symptoms of heart disease, even if they are reported within the context of multiple non-chest pain symptoms -- particularly in a population with multiple risk factors for heart disease," Lichtman said.
Though risk factors were common for both sexes, the researchers wrote that the women were more likely than the men to have a history of congestive heart failure, diabetes, obesity, stroke, chronic kidney disease and chronic lung disease.
Almost two-thirds of the women and men said that persistent symptoms were the reason they sought medical care, and more than half said the pain was too bad to ignore, the researchers found.
The majority of women, 87%, and men, 89.5%, said they experienced chest pain.
"We were initially surprised that such a high proportion of young women presented with chest pain," Lichtman said. "But this is likely due to the fact that we expanded our definition of chest pain to include terms such as chest pressure, chest tightness or chest discomfort, which are common ways that women will describe their chest pain and chest pressure."
The researchers also found that women were more likely than men to report experiencing three or more additional symptoms. Specifically, 61.9% of women said they had three or more associated non-chest symptoms, compared with 54.8% of men.
The number of additional symptoms may make it more challenging to identify chest pain descriptions within the context of other reported symptoms, Lichtman said, highlighting how important it is for doctors to listen for chest-related symptoms in patients.
Still, a limitation of the study was that many of the data were based on self-reports, or how the women and men recalled their symptoms from their interactions with their doctors.
"We learned about their perceptions shortly after they had a major event," Lichtman said of those self-reports.
The researchers also noted that data on patients who died before arriving at the hospital were not included in the study, and so the findings are based on only patients who survived their heart attacks.
Weeks before Murphy was hospitalized in 2016, she experienced some pain on the left side of her neck.
"I had went and saw an urgent care doctor because I was going to travel for business, and I said, 'I'm having this pain in my left neck,' and he said, 'Oh, I think you slept wrong on your pillow or whatever; I'll give you a muscle relaxant,' " Murphy said.
Three weeks later, when she came back from traveling, she met with her primary-care physician, who also suggested that she was experiencing minor muscle pain.
"I went to two different doctors, but at the time, nobody would have said, 'You're starting to have a heart attack,' " Murphy said, but the study suggests that if a patient has such symptoms and risk factors for a heart attack, doctors should ask more questions to rule out a heart attack.
"Now that I look back, that was kind of like an early sign of me having a SCAD event," she said, referring to how she had spontaneous tearing in the artery walls of her heart, related to her heart attack, called
spontaneous coronary artery dissection
.
The heart attack symptoms you should know about
These apparent differences in men's and women's heart attack symptoms have been known among researchers for a long time, and that knowledge should be applied clinically when diagnosing patients, said Dr. Nieca Goldberg, a cardiologist and medical director of the
Joan H. Tisch Center for Women's Health
at NYU Langone in New York, who was not involved in the new study.
"I'm not surprised by the findings, but I'm still disappointed that both women and their health care providers are less likely to attribute early symptoms to heart attack compared with men," Goldberg said.
"The take-home message for this is that men and women have to be aware of all the symptoms of heart attack," as do health care providers, she said. "Obviously, we need to do a better job."
Heart attack symptoms that are not related to chest pain can include shortness of breath, breaking out in a cold sweat, nausea or lightheadedness, according to the
American Heart Association
.
Goldberg added that anywhere above the waist "is fair game" to those symptoms of feeling uncomfortable pressure, tightness or pain.
"The pain and discomfort is in the jaw, neck or in the arms and those sorts of places -- like between the shoulder blades or upper back -- they can experience that tightness or pressure," Goldberg said.
"Usually, the pain or pressure or tightness due to heart attack feels like an elephant sitting on your chest or you're being squeezed," she said. "I've had patients say, 'It felt like my bra was too tight, but I know my bra was not too tight.' "
Goldberg added that autoimmune diseases -- such as lupus, rheumatoid arthritis or psoriatic arthritis -- as well as a history of preeclampsia, hypertension during pregnancy and gestational diabetes can increase risk for heart disease in women.
Even though certain complications in pregnancy can put a woman at an increased cardiovascular risk, the new study did not address that, since the researchers didn't query for it, said Dr. Nanette Wenger, professor emeritus of cardiology at Emory University School of Medicine in Atlanta, who was not involved in the study.
"Often, the women are not told that and told they need to check with a physician," Wenger said. "So there is a population of women, many of them whom may be younger, who are at an increased risk."

Wenger added that, while treating heart attack patients as a consultant at the Emory Heart and Vascular Center, she has noticed that many women might be hesitant to report lesser-known symptoms that could be perceived as "crying wolf."
The message that heart attack survivor Murphy hopes to leave with women around the world is not to second-guess themselves or be embarrassed about addressing a health issue.
"I think so many of us are scared to call the ambulance, to call 911, because we don't want somebody to say, 'Well, you just have indigestion; go home,' " said Murphy, who authors a blog dedicated to
encouraging other heart attack survivors
.
"I would rather have somebody be told at the ER that it's not what they thought it was, and it's not a heart attack, than to have somebody have a heart attack not get help and then could die," she said.
Categories:
Earned Media Articles

womens health

|
Tags:
Womens health